When most people think of a camping hammock, their first thought is a sleek swath of fabric hanging between two trees. Unbeknownst to many, the straps that hold the hammock in place can ultimately scar the trees that they're attached to.
In these cases, you need a portable hammock stand to take with you when you want to relax in the great outdoors without harming nature or breaking park rules. If you don't want to pay for expensive hammock stands at the store though, there are DIY portable hammock stand plans that can play nice with your budget.
DIY Hammock Stand Plans
Making your own hammock gear is as satisfying as it is practical. There are several stand designs you can choose from that are relatively simple to assemble and transport on all your many adventures.
The following stand ideas are also excellent options if your backyard trees are too frail (or nonexistent) to handle the weight of the hammock. If you're looking for a fun weekend project, here are a few plans to get you started.
1. "Dabberty" Foldable Wood Hammock Stand
When it's folded, the "Dabberty" stand looks like a series of boards laid out in a single layer side-by-side. When it's unfolded, the base of the hammock supports two diagonal wood posts rising in a V-formation. The hammock can be tied to the two outside posts. You can also cover the stand with a low tarp to keep the sun and insects off your face.
A foldable hammock stand is a great way to get the flexibility you need to go from camping trip to camping trip, or just to store in your garage. Of the four ideas listed here, this project is likely to be the most challenging because the directions are only partially explained.
However, it's also super cool looking and functional. It's likely to be the most portable, and stable due to its base — especially if you want to fit at least two people in the hammock. If you can follow the video step-by-step, and decipher the diagram, you can design a stand that's strong enough to hold whoever wants to kick back and put their feet up.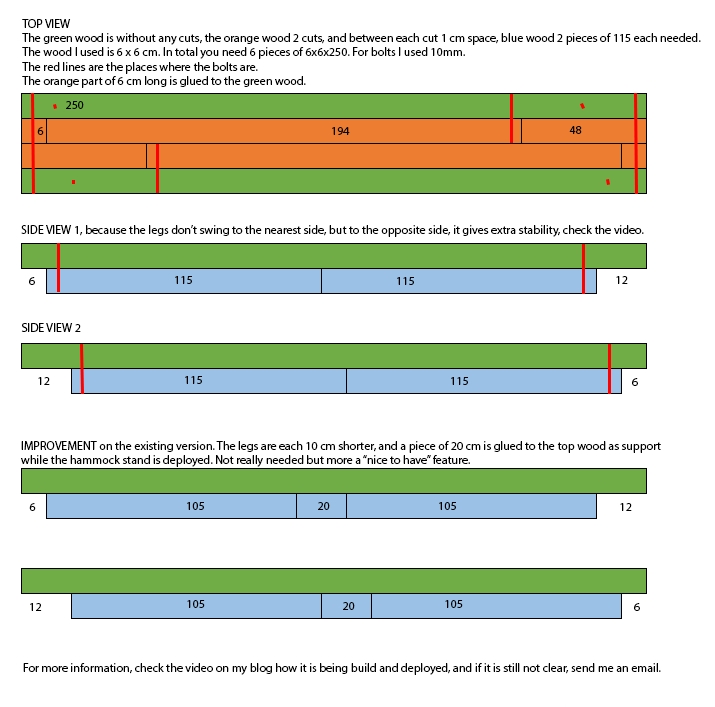 ---
2. Turtledog Hammock Stand
This project was conceived for people who want to get away for the night but don't have the time to get all their gear in the truck. When you simply have to sleep under the stars and in the fresh air, this stand is easy and fast to set up in practically any weather.
A turtledog hammock stand starts with two tripods and a ridgepole. The ridgepole rests on top of the two tripods and is secured with a door hinge and S hooks. The hammock can be tied directly onto the tripods. This project can be altered significantly, depending on the height and design you want. If you plan to use your hammock regularly across all seasons, the poles should be painted with Plasti Dip to help protect the wood for years to come.
If you don't have a lot of shade coverage in your backyard, you can cover a turtledog hammock stand with a canvas topper to stay cool on even the hottest of days. Those who construct this portable stand are typically constructing it for single-person use, but depending on the materials you use, it may be able to support more than one person. Setting up the hammock stand only takes a few minutes, and the materials are so common that you can likely construct the stand without making any trips to the hardware store.
---
3. Car Camping Hammock Stand
A car camping hammock stand is designed to conserve room in your trunk so you have more space to take everything you need. It's constructed of two diagonal boards in a V formation to hold the hammock, similar to the foldable wood stand. However, the car camping version doesn't require the extra wood used for a base.
The car camping hammock stand starts with two long lines and a diagonal post at either end. You'll need rebar, 2 x 4 boards, and stakes to get started. You'll also need a 12′ x 9′ rain tarp to cover the hammock, and several connecting pieces of rope to secure everything together.
If you're looking for DIY hammock stand plans that are simple and fast, the car camping hammock would be at the top of the list. Similar to the turtledog hammock idea, this stand is all about convenience and speed. Some DIYers get stuck when trying to construct the base of a portable hammock stand, but these construction plans solve that problem.
---
4. Tensahedron DIY Hammock Stand
The Tensahedron is another version of a car camping hammock but using a more geometric design. Instead of boards rising from the ground, it relies on the symmetrical stability of a tetrahedron to cradle the hammock. The stand keeps its balance and suspension perfectly when you're using it, so you can drift off without fear of falling.
The tensahedron has a length-wise spacer in the middle of the hammock with the rails folding out into a diagonal V-shape. For this stand, DIY pros recommend four top rails of galvanized steel that are around 10′ x 6″ long, cut in half. You'll also need eye-bolts or hex bolts, a nylon spacer, and paracord.
People like this project not just because it's convenient for camping, but also because the stand takes very little time to construct. Even if you don't consider yourself to be a DIY pro, you can finish this up in an afternoon. (You'd likely be finished in less than an hour if you know your way around a drill.) The main steps include making the holes through the pipe, assembling the two rails together using the bolts, and placing the nylon spacer between the pipes.
As you put this together, consider how the tethers will function to keep the hammock taut. Not everyone wants the hammock to be stretched out as far as it will go on the stand. Some prefer the freedom to rock a little as they relax in the breeze. If you prefer a different kind of lounging experience, you can loosen the tethers to get the most relaxing shape for your body. You can cover the tensahedron with a 10′ tarp attached to the eyebolts for a little extra comfort on your camping trip.
---
Tips for Hanging the Hammock
When it comes to hanging the hammock on your DIY hammock stand (and spacing the posts out), consider how your spine will react to the pressure and position.
It may seem best for your back to lay as flat as possible, but it's actually better for your body to have some curve to the hammock. (Because no matter how tight you pull it, there's always going to be some sag in the middle.)
The key to getting your spine to line up down the hammock comes in how you adjust your body. The idea is to lean into the curve (known as the hammock angle) so the material will smooth out below you and give the best possible support.
Wrapping Up
The right hammock stand for you depends on everything from your weight to your camping plans. The foldable stand may not work for you if you're planning to take it on multiple car trips, but it may be the best choice if you love spending whole afternoons enjoying your own backyard. As you build your stand, you can modify it based on your preferences and ergonomic needs.
Each of these plans listed here is relatively simple for those who love to DIY their own hammock gear, but all the designs will still come with its own set of challenges. Not only will you need to consider your budget and available tool kit, but you may find that the Turtledog stand isn't sturdy enough to support both you or your spouse.
If any of these projects look too tricky (or you just want some degree of certainty when tackling the project), consider a pre-made portable stand kit to get you started.